I am so excited to be apart of the
25 days of Christmas Blogshare
! If this is your 1st time viewing my site, WELCOME! I hope you will find my site fun and helpful. And if you are a regular reader, I hope you are enjoying this new series...
The Christmas season is thought of as "The most wonderful time of the year". But often times, once that time has arrived, we feel unprepared, stressed out and over burdened!

We pack our schedules with parties, shopping and baking.
We feel pressure to out do everyone around us with creating the best ever moments, traditions and memories.
This can all be incredibly overwhelming!
And the next thing you know Christmas is a few days away and you haven't done all the things you were hoping to fit in,
much less enjoy the activities you did accomplish.
I know for myself, especially with young children I want to provide my children with all the magic that this time of year brings, but in the past I have watched the holiday come and go with nothing crossed off my to-do list and feeling disappointed in myself for falling short.

So how can we fix this??? How can we ensure we enjoy the holidays and accomplish the things that really matter to us?


Here are a few things that you can do NOW to prepare for Christmas. These are things that will take only a few minutes and ANYONE can do
(even if you're not an organizing pro)
:
Map out your Calendar
-
Write out all the plans you have already committed to.
(Any kids practices/games, birthdays, family functions, any church programs, vacation time, etc.) Make sure you communicate with your spouse & kids to make sure nothing is forgotten or conflicted. I posted about our family calendar in more detail HERE! This way you can see what time you have available to plan other activities!
Budget Christmas Money -
It is so easy to get caught up in all of the things you want to buy and do. Because of this you need to plan ahead how much extra money you can afford to spend. It's an awful & unnecessary feeling to start the new year with a large amount of debt from things that have already passed. If you can't afford it, DON'T! *Some things on our list this year are buying a real tree, homemade gifts for family, Busch Gardens Christmas Town & sending a package to our World Vision child.
Prioritize -
Having your budget & calendar planned out will help with this step. You can decide ahead of time what you can afford to do & what you want to make time for.
Let's face it, you can't do it all! So decided
now
what you consider essential! *For me this is to spend a day baking cookies with my mom & the kids, take the kids to see the
Christmas lights at the boardwalk
, church Christmas parties, a few Church charity events, etc.
Meal Plan the Entire Month -
Don't be turned off by this if you have never attempted this before. I promise this will significantly help simplify things by cutting down trips to the store & the amount of time spent shopping. The last thing you want to worry about are meals or baking supplies. You're already going to be spending extra money this month, so why not pinch a penny where you can by eating at home as much as possible.
HERE
are some more details about meal planning.
Decide which Traditions you will Celebrate -
There are so many great ideas out there, especially with the internet and Pinterest, you can get lost in everything you
want
to do. But let's be practical... You'll be lucky if you can fit in 1 thing a day! So decide now, what you will do and make sure you shop ahead for any supplies. Again, all these things need to be budgeted for. *Here are some of the things we will be doing... Advent calendar

(which have some activities/crafts that go along with it)

, decorating outside, Elf on the Shelf, make some presents for family with kids, filling a stocking for our World Vision child, a few must see Christmas movies, having a birthday party for Jesus, Christmas Eve gifts.
Plan to be at Home -
Being out and about in the hustle and bustle can be fun and exciting, but make sure to include some quiet family time at home. Especially if you have little ones. They need to be kept to their schedules, whether that's napping or feedings, as much as possible. And even older children need some downtime to unwind. You can't expect everyone to be on their best behavior when they're all out of whack.
Add ALL of these things to your Calendar -
Now that you've made these few lists of things that you want to accomplish. Add them to the calendar! Schedule what nights you'll stay home & watch movies, do crafts, bake, etc. Doing this will make sure that you actually do the things you want to do & have the time to do them. You will also be able to be prepared with supplies. This may also make you realize that you need to pare down your lists of traditions, activities & events.
Make a Gift/Shopping List -
Write out a detailed list of who you need to buy for and their budget. I keep a notebook every year that I write my lists in, gift ideas, what I've bought & my receipts. Again, use your budget that you made to decide how much you can spend. AND STICK TO YOUR BUDGET!!! This is why we have chosen to do handmade gifts for our family, to keep the budget low, but still being thoughtful! The price tag on your gifts do not equate your love for that person! And if the recipient doesn't understand that, then it's their problem, not yours! If you're worried about your kids not understanding budget cuts, talk with them! This would be a great teachable moment to remind them that presents are not the 'reason for the season' & how budgets are a smart financial decision.
Plan for "Failure" - What in the world does this mean??? It means to plan all you can, take all the precautions necessary, be as organized as possible and when it still doesn't turn out perfect... Be okay with that! My husband & I were just talking about our past Christmas blunders and how comical they are to us, now.

(Ex: Trying to buy, light & decorate a live tree starting after 7pm w/ cranky a 2 & 3 year old. You can guess how that turned out. Or the year our trees base was larger than our stand & so my husband decided to make it fit by slamming the base on with a hammer. I don't know how our tree had any pine needles left.)

The point is... Plans change. People forget things. Mistakes happen. That's life. And if we can't figure out how to be okay with that, then we will end up ruining the Christmas we're trying so hard to create! Slap a smile on your face & just figure out how to roll with the punches and work with what happens! And I can almost guarantee that your kids will never remember the things you didn't do!
**What are your tips for simplifying Christmas??? Do you already do any of these??? Do you find yourself overwhelmed during this season? I'd love to hear from you... Leave a comment or link up your Christmas posts below!
Shared with: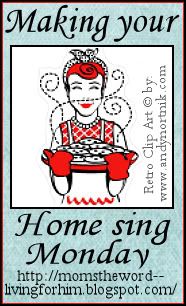 Frugally Substainable