Disclaimer: This completely applies to Mom's of all types - working, students, homemaker, step-parents, etc.
Being "just a mom" is a job title that is almost incomprehensible to most. It seems unless you've had personal experience, you cannot even begin to understand.
Cooking, cleaning, teaching, disciplining, the list goes on.
There are no set work times. No sick leave. No job training or manual. There's no specific job description, except to be prepared to do anything and everything with a moments notice.
All that motherhood entails can be incredibly overwhelming and yet it is often the most thankless job on the planet! Which can leave you feeling unfilled in your role as a mom.
Here is the dictionary's definition of the word
Fulfilled:
1.
To bring into actuality; effect:
fulfilled their promises.
2. To carry out (an order, for example).
3. To measure up to; satisfy.
4. To bring to an end; complete.
**When your head hits the pillow every night, do you feel fulfilled???
Would the definition of this word describe you? Be honest with yourself!
Of course we all have great moments, even days & weeks. We may get to start the morning off with a hot shower, we cross things off our 'To-Do List', our kids obey, our husband comes home early, we get to bed before midnight, etc.
But do you feel like you always
measure up
? Like your
satisfied
being just a Mom?
Do you ever feel like your talents, abilities & dreams are being wasted as Mom???
Do you always feel like you should be doing more?
Know that answering "No" to this doesn't mean that you don't love your kids or don't enjoy spending time with them.
But as you look back to what you initially thought was in store for you as a mother, was this really it?
I know for me, when I started this journey, I was blind-sided.
I thought motherhood was filled with magical moments of crafts, tickling fights, teachable moments & snuggling at bedtime... Not screaming, tears, rushing around & disappointment.
I know that God has given me talents... Am I just wasting them?
I could be reaching more people. I could be more active in my community & church. I could be making a difference. I could be doing things that make a lasting impression and that God cares about. Right??
But here's what I've learned:
First, is that God does care what I'm doing!
I'm taking care of his most important creation.
My job is to instill the values of Christ in them from the ground up. So I am doing exactly what God wants from me. And I'm not wasting my God-given talents, because I can use them in my mothering.
As this verse says, there is a time and season for everything.
And right now my "season" is mothering.
Of course, it doesn't have to be the only thing I am doing. I don't have to neglect my church, family, friends and community.
But my priority right now are my children! And I'm not going to allow myself to feel guilty, because I want to put them first.
In this society one of the hardest things to deal with as a mother is to deny our selfishness. It's at the core of every human. And as a mother it doesn't take long to start to feel empty and that you have nothing else to give. We may be tempted to go on strike & remind everyone of everything we do for them, and how we receive nothing in return.
But we need to remember that we will only ever be as full as that which we give.
What a blessing to be emptied of our self and to be filled by Christ! By His strength! To have Him fulfill my needs, not myself!
This is one of the greatest things God has created us for and we should embrace it not fight it. This doesn't necessarily mean it is an easy task, though.
But here's where we start - By giving our emptiness to God. And asking Him to fill us!
God wants to know our concerns so that He can be our rock! Nothing is too small or big for Him! He is more than capable!
This post is definitely longer than I anticipated, but hopefully you connected! What are your feelings on being a mother? Have you found it to be a difficult role? How have you found your fulfillment???
I hope you'll join me tomorrow as we continue our series with "Letting Go of Expectations"
Finding Fulfillment in Being "JUST" a Mom
Letting Go of Expectations
Learn to Say "No"
Making Time for Me!
How to Recover
Shared with: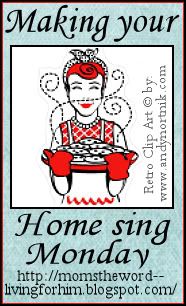 passionateandcreativehomemaking.blogspot.com